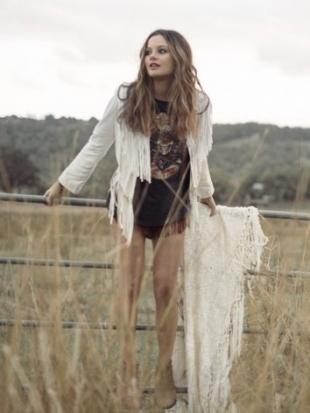 The calendar spring already came, but behind a window unfriendly cold weather still remains. And after all so it would be desirable to feel eventually warm sunny days when it is possible to sport in easy and concrete clothes. The brand from solar Australia is ready to show images of the new ruler under very mysterious title of On the Road («On the road»). The new collection specifies unlimited quantity of bright images in style of the hippie, capable to bring inexpressible revival and paints in though what everyday clothes.
And, as usual, the brand hurries to amuse own admirers not only clothes novelties, well and stylish accessories. The line of On the Road introduces some inexpressibly tempting and unique elements which will instantly change your spring-and-summer images during a new season.
Developed by a duet of 2 sisters of Elizabeth and the Isabella, this ruler can be a fine source of inspiration for creation of unusual ensembles. If in the heart of you there lives rebellious spirit, you precisely will like new offers of a brand.
The images of the new collection which have been removed by the photographer Johnny Abeggom, the beautiful model Matilda Prays showed. Only imagine: «The sun starts to sit down and actually some hours' journey to your house. Level of gasoline shows on a tank quarter, and the album Bob Dylan is put on repetition. You incline a rear-view mirror to behold the dirt road which has remained behind, and sweet taste of a road trip is late on your lips…» This collection is created for rather free by spirit of the girl.
But who such lady of Spell? «It is very heavy to please all our clients – all of them such different! I think, if there are some defining lines, it by all means love to natural materials and appreciation for mixture of modern parts with ethnic», – was said by a duet of designers.
The On the Road collection contains in itself charming trousers with a leopard print or in style «Gipsy love», overalls in bohemian style, shorts and charming vests with a fringe in such attractive shades, as turquoise and red, T-shirts, also footwear, bags and picturesque scenery.