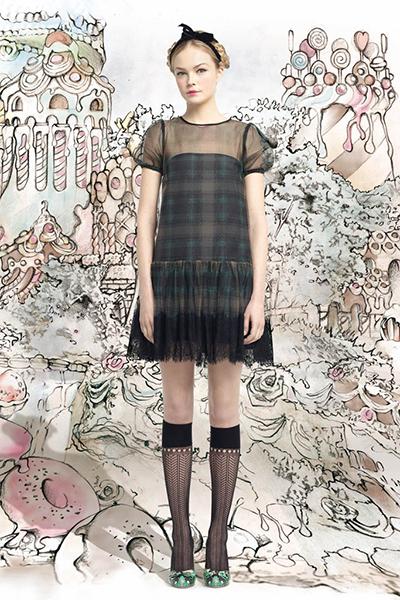 There are such tendencies which are not subject to time influence among which surely prevail retrostyle, elegance, feminity and complexity, and there are such eminent brands to which always manage to beat these tendencies in the most unusual way. The number of such popular influential gurus includes also a known Italian brand of Valentino. His younger sister – the RED Valentino line, having presented on a Week of a fashion the latest pensive and romantic collection for an autumn and winter season, immerses us in the surprising fantastic world. It actually abounds with charming magic dresses which absolutely are suitable for popular princesses.
This year creative direktor of the Italian brand Maria Grazia Chiuri and Pierre Paolo Pichcholi when developing the autumn and winter collection were inspired by known fairy tales of brothers Grimm «Genzel and Gretel». Especially charming and unusual line filled with bright prints and folklore elements of Germany, the homeland of eminent fairy tales became result. The main heroine of work Gretel inspired designers on creation of knitted corsets with basky in a combination to tremendous skirts while Genzel founders connected creation of checkered coats with image of the boy.
The unlimited quantity of charming prints and patterns, gentle colors and the picturesque roses inspired with equipment of a molding from marzipan, embroidery and difficult lace, bows and tapes, also warm jersey and jeans became the main moments of this charming history. The new autumn and winter RED Valentino collection introduces during a new season of a dress with magnificent skirts, skirts cylinders, charming capes, corsets, knitted sweaters, blouses, jackets, stylish coats, velyurovy trouser suits and knitted cardigans.
The new images shown by the Scandinavian model of Cirie Tollerod, are added with accessories, as if from pages of the known fairy tale "Cinderella", the Victorian footwear, lacy nosochka to a knee, lovely ribbons, bags and clutches with a unique embroidery.
While fairy tales are created for children to fill their life with the bright paints, the new autumn and winter collection brings with itself during a new season children's innocence and charming style. A new ruler – an ideal source for inspiration and transformation of your clothes in the real fairy tale!