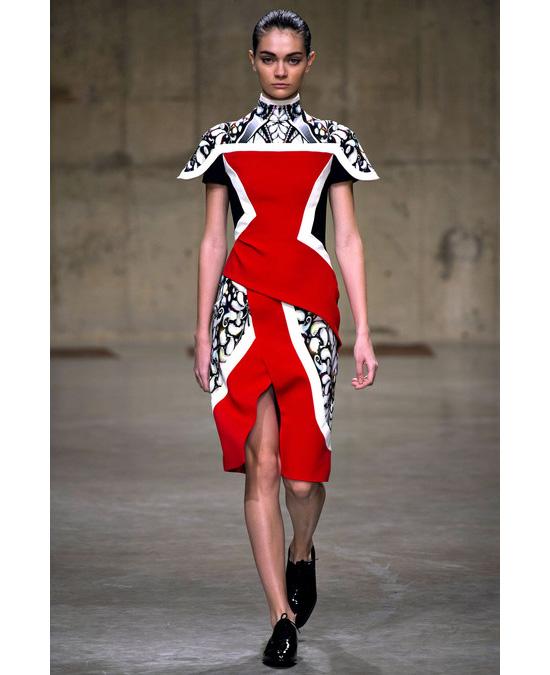 It is necessary to behold that a subject of Spain for a known duet of designers of Peter Pilotto it is far not new or unexpected. So, in last season designers offered public the author's interpretation of the ordinary Spanish suit including practically all its classical elements – magnificent Basques, the sleeves decorated with flounces, and many-tier skirts, as if borrowed of clothes of dancers of a flamenco. At present Christopher De Vos and his employee Peter Pilotto decided to address for creative inspiration to the Spanish painting of an era of the Renaissance. This news, it is necessary to tell, puzzled admirers of the brand known for the in particular quivering love to computer prints.
Peter Pilotto before display admitted that in the center of their attention and reflections there were, first, El Greco pictures which came from Greece, but a half of the life was carried out in the Spanish Toledo. Designers borrowed from its canvases saturated, brisk, times paints arguing between, having presented it new geometrical forms of rhombuses, arches, broken lines and amazing medieval patterns, and after printed them on clothes in the form of the same beloved of a didzhital-print. The result, vobshchy, looked a little ozadachivayushche: as if the integral, ready drawing executed in the most various color palette, was a case (or purposely) is splashed with red or yellow paint under which there was an untouched only small slice of the image. Directly such history was observed on direct coats with a print, put on pockets, or at a dress – mini with dark sleeves, a contrast white trapeze and a skirt in malekhanky curls.
And here forms which were presented by designers of Peter Pilotto in this season, Spanish did not offer anything. Trousers with wide trouser-legs, direct skirts with cuts, the dresses which are perfectly allocating a figure – and all these ensembles in a neotklonimy combination to shnurovanny man's boots. The only thing that somehow reminded traditional suits, there were the truncated jackets casting memories of clothes of the Spanish toreadors, with the prints from far away looking as awards and awards.