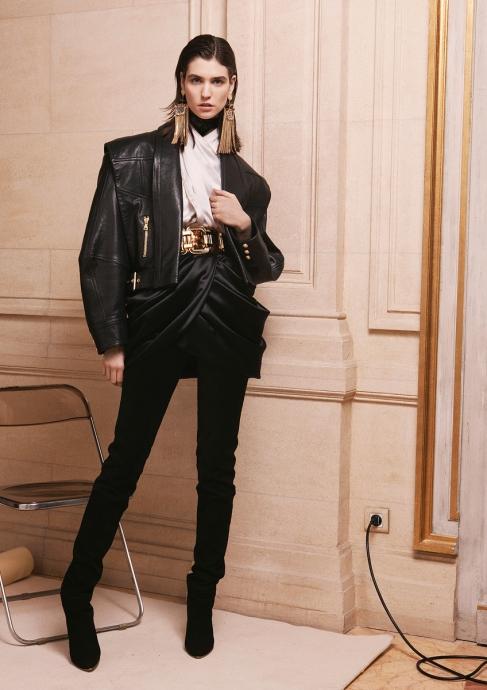 Olivier Rusten (Olivier Rousteing) – the creative designer of a prestigious brand of Balmain – hastened to present to the admirers the newest preautumn collection of 2013 inspired with words of Diana Vriland (Diana Vreeland) – the editor of popular magazines and the cult observer of all major fashion-actions:« Extravagance – the unique reality». In this season the designer just also decided to play with extravagance and luxury, having created a collection for stylish and self-assured ladies who can estimate such beauty and a glamour on advantage. Their influence was felt in each of new images of the designer, having embodied in rich shades of a fabric, design, an infinite abundance of structures and the sculptural silhouettes reminding of a fashion of the 70th years. In the Pre-Fall 2013 collection traditional motives and moods of Japanese culture – magnificent, a little the roundish sleeves decorated with the Arab patterns, and wide belts of Ob in a combination to the dense trousers fitting a female body, as if the 2nd skin, or more free cut of trousers-saruel skillfully intertwined. Resten with a smile noted:« I like to connect the most different cultures are my main counter!»
It is possible to find many interesting finds in the presented collection of the prestigious house of Balmain for future inter-season period: it and seductive models with the naked feet, perfectly allocating fine-molded ladies' forms, and mini dresses, as if collected from slices of a brown patent leather, and the multi-colored double-breasted jackets executed from жаккарда and decorated with metallized threads, and soaring silk overalls with the interesting image of the bamboo, and the same satiny trousers-saruel, and air chiffon blouses with a charming drapery, both structural skirts and dresses mini with gold modulations and still a lot of things-many other things, including suede, a velvet, skin and natural fur. The collection really strikes with the originality, style and a great opportunity for a choice.
As a whole, the preliminary Balmain line looks simply absolutely, but nevertheless has from time to time a little provocative character. It is thought, Olivier during its creation remembered Diana Vriland's next known aphorism: «Be not afraid to be vulgar, be afraid to be boring».