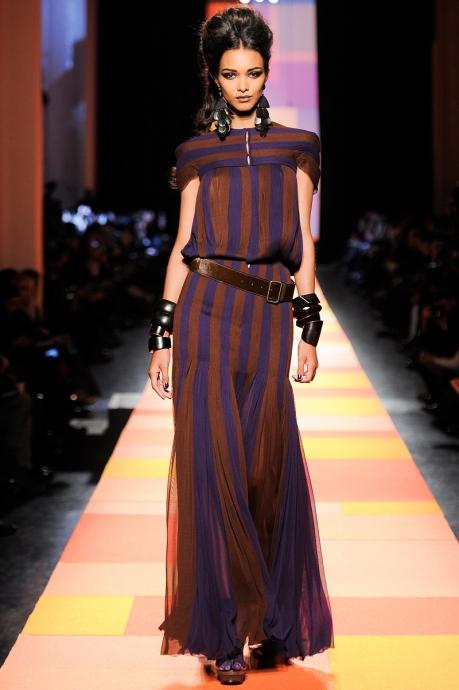 You to a meeting started to remember their nomadic way of life, their songs and dances, their bad image connected with theft and another dark matters, but at present I suggest to reject all this aside and to build a new associative array. So, Roma – the Indian Roma – the designer – inspiration – Jean-Paul Gaultier… For the present not up to the end catch an essence? Then, without losing time, we pass to a clear explanation.
So, world famous designer Jean-Paul Gaultier on a Week of haute couture in Paris presented the collection haute couture spring 2013. On its creation of the maestro the Indian Roma inspired close to it on spirit. In spite of the fact that inspiration Jean Paul has very excentric character, the collection left elegant and smart, thanks to only expensive materials and to ability of the genius to frame everything so, what there is nothing another, without considering luxury, his masterpieces cannot associate. Judges can distinguish with ease Gaultier's style thanks to difficult draperies, conic bras, satiny corsets and man's tuxedos which became a firm subject of collections of the designer.
Gaultier transformed display to the real show, as is typical to it, as to the king of shocking. Models walked on a podium with high hairdresses in style of the 60th years, a visible make-up and with a gold dusting on a body. Display was opened by models in evening dresses, and closed model in a wedding dress with a surprise. The eminent song "La Vie En Rose" executed on Hindi went a background. The model left on a podium in a dress with a volume skirt a scrappy fabric of white and gold flowers. Then it raised a skirt, from where, as if in the fairy tale, fluttered out on a podium four lovely little girls, giggling and having fun, dressed in dresses is dazzling bright flowers: fuchsias, bright orange, lime and dark blue.
Collection subjects
Dresses, blouse and jumper, trousers, corsets and tuxedos, jackets, outer clothing and accessories.
Colors of a collection
Taking into account a keynote it is simple to guess that the collection left visible and motley. The designer used classical colors: black, white, red and brown, picturesque – yellow, orange, violet and blue, also stabler colors of a pastel.
Collection materials
The atlas, multilayered chiffon, the Indian brocade which sent to images of the Indian Gipsies, and jersey.
Collection details
Mnogosloynost, difficult draperies, lace, fringe, property of ruches and frills, decor paillettes, different prints.
Collection accessories
Gaultier placed separate emphasis on accessories that is absolutely pertinent, taking in attention a collection keynote. The designer offered massive bracelets, long chains and suspension brackets, openwork necklaces, huge rings with massive stones and earrings.
The collection was successful wonderfully well. The designer it is very thin transferred ethnic motives, having turned them into something magnificent and cool that is unreal to throw without attention and without enthusiastic responses.