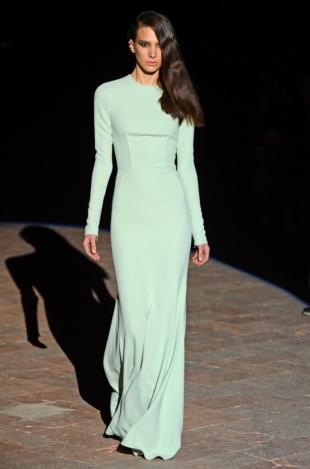 The Italian designer of Francesco Scognamiglio (Francesco Skonyamilyo) known for the impudent and scandalous dresses for stars of show business, does not simply clothes. All its creations are expression of the most real emotions. The new autumn collection of the known designer, shown during a Week of a fashion in Milan, derives the inspiration from a type of the Hollywood actress of the 40th years of Veronica Leyk known on the film «Sullivan's Travel». This beautiful lady became a zakonodatelnitsy fashion and presented the latest hairdress under «peekaboo» title. There are special elegance and the attitude appropriate to design of the Italian brand which can be found in each of its lines.
«Elegance and beauty are complementary components of this collection. It contains in herself style and an esthetics. It is a usual way of life», – explained in Francesco Skonyamilyo's interview.
For future cold season of 2013 the world famous designer offers absolutely elegant collection filled with inexpressibly womanly and magnificent dresses, radiating superfineness and a coquetry. In strips seductive dresses, skirts and tops, suits, also a coat and capes are presented.
Once again, the Italian designer managed to make the ensembles showing unprecedented originality. «My formation was absolutely natural. I never passed a thread through an eye of a needle. Once, when I was 15 years old, I very much with enthusiasm looked behind work of the tailor… and here I thought that a sound of scissors and feeling of different fabrics was a part of my soul. I made a jacket basting, and later… started its tailoring and… as on wave of a magic wand I began a wonderful adventure in what I am and till today», – said Francesco Skonyamilyo.
The faultless cut and monochrome elements became the main components of a new autumn collection of the Italian designer. The color palette contains in itself generally black and white tone which appropriate strips eternal elegance. After all, in a collection also there are nyudovy colors and leopard prints. Display was complete seductive and charming dresses. And fine silhouettes, colors and not very well what detail only strengthened improbable sensuality of dresses from the professional designer.