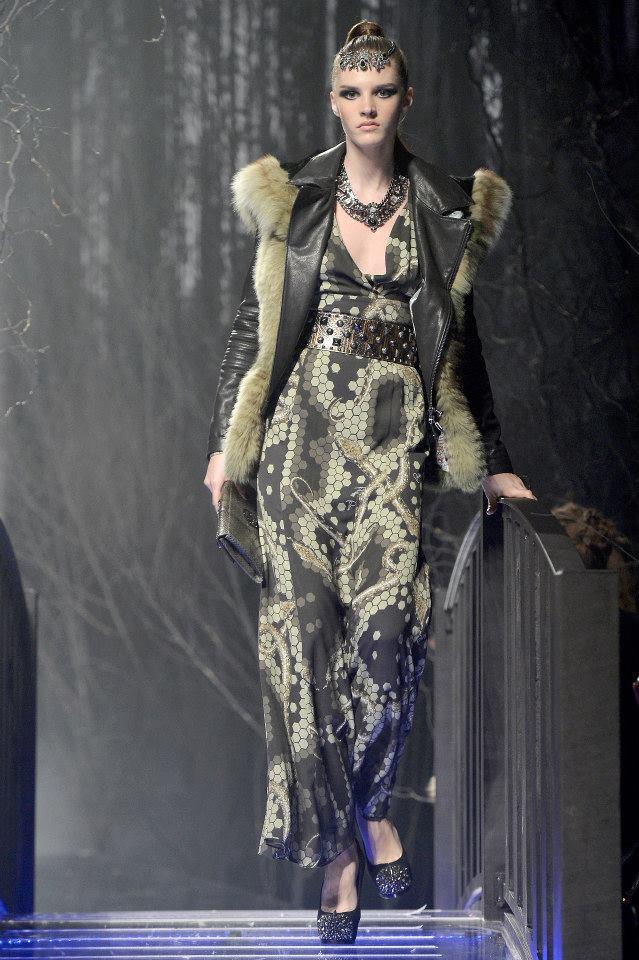 Its originality found expression not only in its extraordinary collections, well and in those shows which he created, showing models. At present Philippe Pleyn addressed to own independent way of thinking, the imagination and talent, and instead of ordinary prestigious display, the audience contemplated the real show or, even it is possible to tell, the dramatized action. Display as if took place not on a Milan podium, and in the bewitched wood which casts a certain nightmare and horror, over the 1st look. Models walked on the bridge, passing the improvised deep and black river, and as a background old trees without the 1st leaflet, but with a set of black ravens on branches served. Well and there is more to come, show began with speech of the Jamaican singer Grace Jones which appeared in black vestments and with a black unique design on the head reminding a mix of a cap, a mask and a crown. Its performance proceeded and after show, on afterparty where it executed the most popular compositions from own repertoire.
The season collection 2013-14 is autumn-winter an ordinary Pleyn, sexual, impudent, self-assured, strong and even the moments aggressive. It uses again furs, a leopard print, skin and openly tells about female sex appeal, the moments very close adjoining on vulgarity.
Collection subjects
Dresses mini and maxi, skirts, leather леггинсы, trousers, jumpers, tops, leather leather biker jackets, fur waistcoats, fur coats and short fur coats, also bags and footwear.
Colors of a collection
Philippe Pleyn used the loved color palette, and directly black, gray, white and red, having added beige and khaki.
Collection materials
Pleyn would be not Pleyn if did not use skin, also it would be surprising, if in this season he did not address to fur. Not including skin and furs, designers were used by jersey, a velvet and chiffon.
Collection details
The decor, as well as is necessary to Pleyn, it appeared rich, here both paillettes, and Basques, both the gold embroidery, and gold rivets, both a fringe, and beads, and game of a cut and forms, on it and is created shocking and a call.
Collection prints
You represent Philippe Pleyn who is letting out a collection without a leopard print? – I do not! But at present it also used various abstract prints and even flower which, at the 1st look, is not entered at all in its style.
Once again it was possible to Pleyn эпатировать, to prove the originality, the unusual thinking and the courage in expression of the extraordinariest ideas!