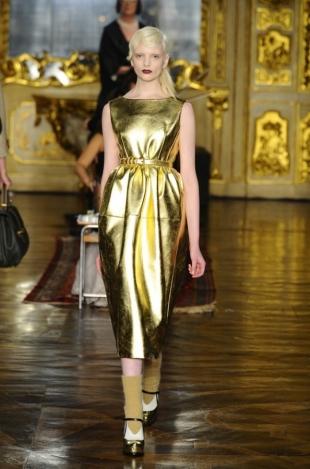 The new autumn collection of 1 of the best Italian designers Antonio Marras (Antonio Marras) precisely became one of the main points of an attraction on a Week of a fashion in Milan. Skill, wealth and a wide range of different ornaments united together, forming the unique massif of tremendous compositions.
«Most of all me their eccentricity and that fact interested that they rejected a fashion and absolutely are not interested in that occurs in the world, and, more quickly, are interested in development of own own projects», – the designer behind the scenes said.
Antonio Marras is famous for the stunning force to create retro and esthetic dresses and to season them with some modern strokes. The designer is capable to give to forms and a structure absolutely new look. Well, and its last autumn collection is to that good confirmation. It seems that the known Italian designer derives the inspiration from creativity «Bloomsbury Set» ("Blumsberi Seth") – elite group of the incorporated English writers, intellectuals, philosophers and painters which structure also included also the British writer Virginia Vulf.
Thus, Antonio Marras's new autumn collection, thanks to charming silhouettes with elegant modern strokes, showed the surprising atmosphere of the 50th years. The Italian designer once again proved to those, why it is worthy ranks «the poet in the fashion world» and «the fashionable story-teller». Clothes, images – everything was perfectly balanced, drawing hundred parts of delighted looks.
«Everything around can cause in me inspiration: various objects, music, unexpected meetings, a souvenir, the friend said something to me by phone… everything, each visual impulse, not very well what form and a matter art, craft, raw materials or the artificial nature, generally, everything, even without visible events, can cause my interest, becoming a source of my inspiration», – Marras said.
The line of the Italian designer presented beautiful dresses with prints, jackets from «a broken cage», skirts, sweaters and capes with romantic flower prints.