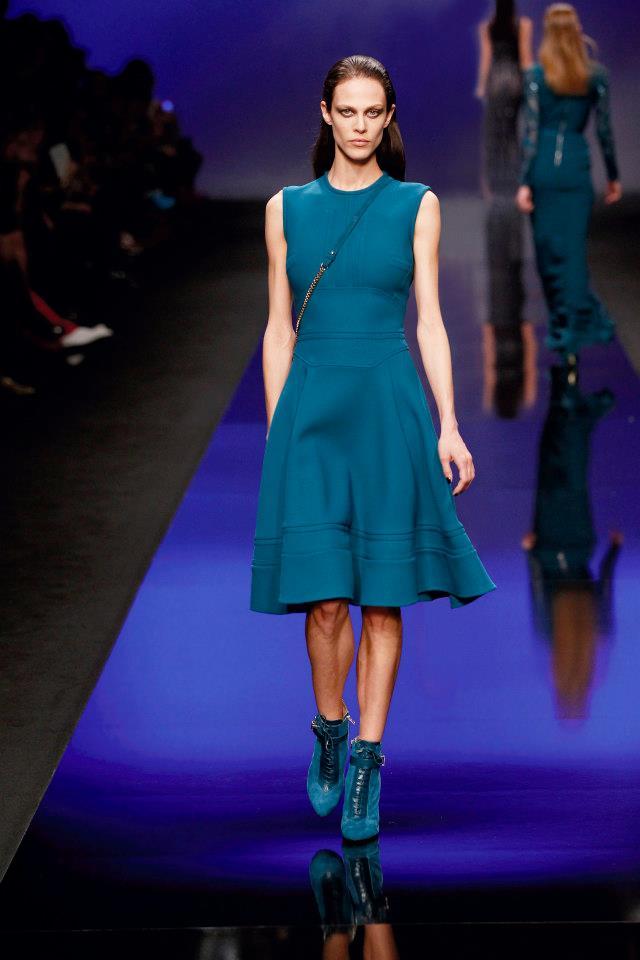 To be exact, on a podium of the Parisian week of a fashion where it represents the autumn and winter collection 2013-2014. The genius has the Lebanese roots and the world love, and his name – Elie Saab. It is more and to speak it is necessary nothing, its collections say for it, again proving uncertain if those still remained that before us the Lord of a podium and the subjugator of an infinite subject of ladies' clothes – dresses.
The collection 2013-2014, as usual, is inexpressibly womanly, refined and elegant autumn-winter. Only this time the maestro gave a little more attention to everyday sets, rather than usually which can be characterized as more reserved and rather strict. Well and evening dresses, as usual, were magnificent and brilliant. It would be desirable to look? Well, to me too therefore I invite you in fascinating travel under the title «Elie Saab magic world».
Collection subjects
From its everyday sets a little blew as office subject therefore it is not surprising that skirts pencils, trousers, blouses and sheath dresses, jackets, raincoats, a coat, and fur boleros or kurtochka which appropriated to a look a little to luxury and mysteriousness here enter. Naturally, did not leave without the head fad of the maestro – evening dresses of a various cut, a style and length.
Colors of a collection
For sets of everyday clothes the designer selected black and pigeons of color whom the snow-white supplemented. For magnificent dresses the designer also used black, but plentifully seasoned it with bright and saturated flowers, such as plam, blue and yellow.
Collection materials
"What autumn and winter collection of a season 2013-2014 without fur?" – a question rhetorical. The fur was added with the light chiffon, the drawing atlas, ordinary jersey and excellent wool.
Collection details
Elie Saab, as usual, is especially attentive to a cut. At present it decorated the creations with lightnings on a back, womanly Basques, shifonny inserts, draperies and, naturally, inimitable lace and an embroidery. It also directed the attention and to a flower print which decorated dresses and a set from a skirt and a jumper in sports style that very much in particular for Elie Saab. Special attention he gave waist strips, emphasizing it with a very narrow belt in the majority of exits.
To say that the collection was successful – is irrelevant, for before us Elie Saab, and at it on another and cannot be, but with probability of 99 % it is possible to predict emergence of many of creations of its autumn and winter collection on red paths of the whole world.