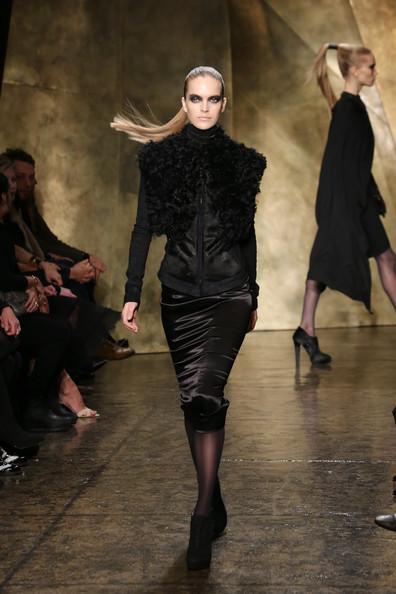 While in the 2nd a strip of a brand of DKNY collections of more vigorous, cheerful and sports style were always presented, Donna Karan introduces during new seasons more mature and elegant images. This year again it was possible to make dazzling аутфиты which were embodied in womanly and inimitable display on a Week of a fashion in New York. The new autumn and winter collection, which founder addresses to roots of a known brand, showed «seven easy plays», that only having strengthened the situation in the fashion industry. It is a strange story about silhouettes, forms and smooth bends of a body.
«It is absolute Donna Karan. There can not be someone else», – the designer tried to describe the latest autumn and winter collection. She also said, what its works were always inspired?? art of her dead Stephane Weiss's wife. «If you look at Stephane's sculptures, you by all means will see that it everything about a body…. It is my DNA. It what I», – said it. The designer remained priklnny to a subject and called itself «the new lady of New York covering the whole world and each culture».
«Sensual. Spiritual. Sculptural», – directly the new Donna Karan collection that speaks for itself so was called. In it 39 magnificent images which amaze with the fitting silhouettes, feminity and seducement are presented. In a collection fitting knitted dresses, raincoats with an asymmetric drapery, "sculptural" coats with capes or without, also inimitable evening dresses are shown. The Mnogosloynost, mixture of contrast fabrics and emphasis of silhouettes are those methods which the designer used for creation of these worthy dresses.
The autumn and winter collection of a known American brand abounds with universal dark, brown, gray and zarzhavlenny flowers, emphasizing fine game of skin, transparent fabrics, wool and fur. And the exposed accessories among which beautiful high boots, shoes on a high heel, fur caps and leather gloves in addition to a seductive make-up смоки айз (smokey eyes) and a classical hairdress in the form of a high and smooth tail, absolutely corresponded to mood of display. Despite obvious simplified nature and a minimalistichnost, the new Donna Karan collection precisely became one of the most glamour and sensual among the wealth presented during a Week of a fashion.