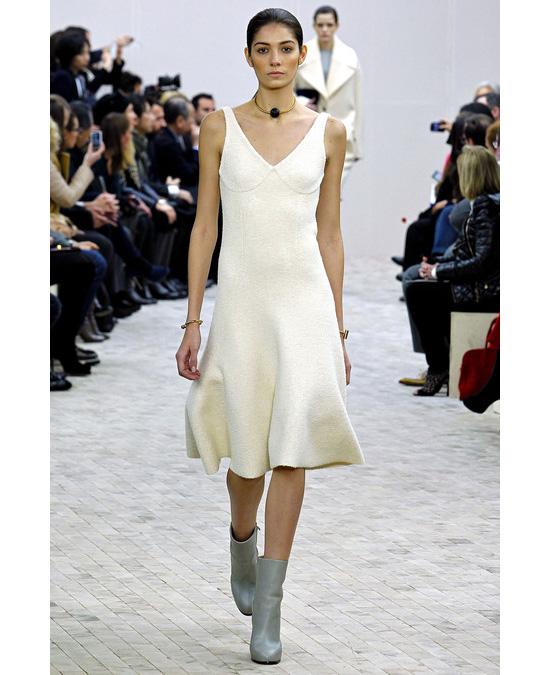 Phebe Faylo can be proud really of the work for brand C of line. It managed to make for it really ideal style – modern, technically distinguished, but at the same time womanly and ordinary. Therefore it is not surprising that at present already anybody at all does not allow possibility of design misses in brand work. And the collection 2013-2014 became autumn-winter one more to that confirmation. In it there was perfectly, perhaps, all: Phebe's firm white color, a masterly cut which also already managed to become the brand card, and the rigid silhouette offering to women of fashion noteworthy games with volumes, flowers and invoices. It should be noted also that in this season the color palette was chosen more impressing, consisting of pleasant pastel tones – from a ldisto-gray shade to color of baked milk. This stable train of paints only with times was diluted more by the deepest and saturated colors: turn blue, gray and green.
Elegant coats cocoons and A-silhouette models in length to a knee became one of the main acting characters of a new collection. They were executed from a mohair and wool with sleeves of the most various length. At all this sleeves, seemingly, at present became the main object of attention of the designer – it played not only with their size, well and a form, types of cuffs and even presented some models where sleeves and were absolutely stuck on a breast, carrying out, most likely, function purely decorative.
Though, as a whole, autumn and winter collection C of line appeared not such severe and reserved as earlier, – there was in it a lot of irony and ease. With a smell, comfortable jackets with a high throat and inexpressibly long sleeves, mink dresses on shoulder straps, the trousers-skinni exposed, vobshchy, the unique model, jack boots of the most different flowers, asymmetric skirts years – and this list it is possible to continue cellophane bags, skirts still for a long time. But the main thing that the new line of the designer left very various, interesting and, naturally, absolutely recognizable.