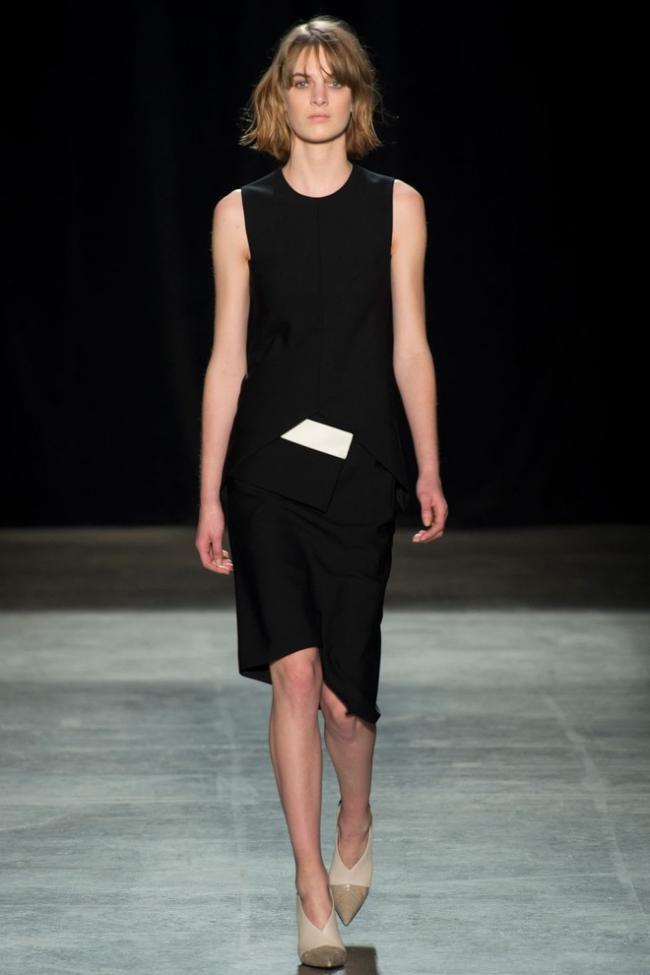 «The public arrived on the show Narciso Rodriguez, still discussing, as John Galliano influence in Oscar de la Renta collection is great, and admiring the draped suits and capes. But the sir of Rodriguez without effort changed the subject», – noted Cathy Horyn, the observer of the section Fashion & Style "The New-York Time".
The designer who likes to work and play with simple lines, does minimalist and simple models, but at all this very elegant, smart and sexual, in this season surpassed itself.
In the new collection autumn-winter of 2013-14 Narcizo Rodriguez made the main rate on geometrical figures – generally a triangle. This figure is correctly traced in all details of a collection: V-shaped cuts, pointed noses of shoes of a contrast color, hems of skirts, dresses and tops in the form of triangles. Simplicity, brevity and unique style became a basis of a collection, it left more rigidly and more strictly, than in last season. The designer worked generally with forms, instead of with color. It used generally black and white and added accents in the form of courageous bright flowers, also counted on a combination of various invoices of a fabric.
Collection subjects
Evening and everyday dresses of a mussel and maxi with asymmetric hems, бюстье, skirts, also with asymmetry of a cut and color, narrow trousers, jackets of different silhouettes with the ground geometrical lapels, a coat.
Colors of a collection
The black is taken for base of a color palette of a collection. Nartsiso used classical colors – black and white – in composition with quite courageous flowers: tangerine, azalea, pigeons, wasabi, cognac and violet.
Collection materials
Crepe, atlas, satin-backed crepe, merino wool and silk.
Collection details
Faultless cut of models of dresses, tops and trousers at all their simplicity, mixture of structures and flowers, sharp strips and corners of jackets, the narrow shoulders, soaring monochrome silk dresses and the extended tops, V-shaped cuts, the same form on a hem of dresses. An embroidery silk and beads in evening dresses, loops and asymmetry.
Collection accessories
Clutches rectangular and in the form of a parallelogram, application from color skin in the form of geometrical figures, a bag sacs. Footwear – shoes with the ground noses, with furnish of contrast colors, with thin leather thongs and without them.
As breath of fresh air! The Narciso Rodriguez collections always are something unusual, but the autumn and winter season 2013-2014 comprehended by the designer, was better, than ever.