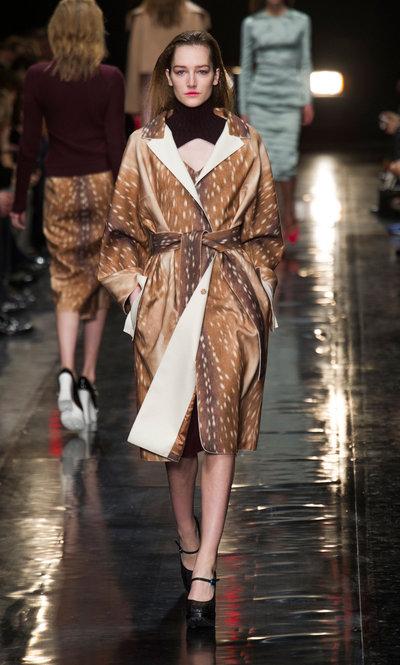 No, nobody steals another's ideas, calling them the, nobody spoils collections in 10 minutes prior to display, but designers a little change to the rules. Karl Lagerfeld added a little fate in classical images of Chanel, Albert Elbaz departed from the perfected impeccability, having created a little reckless collection for Lanvin house. And Guillaume Henri came nearer to the general I understand feminity and elegance much more, having created absolutely the latest autumn and winter collection 2013-2014 for Carven. It is expressed in silhouettes and a cut of dresses and suits, it is expressed in a color palette of a collection which plays gentle flowers pink, blue and beige, as a result even fabrics were gentle and soft. It is interesting to have a look at Guillaume Henri's new notes? Then follow me.
Collection subjects
Suits, skirts, dresses and tops, jumpers, woolen coats and short coat, fur coats and kurtochka, footwear, handbags and other accessories (high gloves and sunglasses)
Colors of a collection
The most part of a collection is executed in pastel shades which supplemented black, a Bordeaux, grayish and colors coffee.
Collection materials
As already it was told above, on purpose to approach a collection to general understanding of feminity, Guillaume Henri selected such materials, as soft and fleecy wool, gentle reaped silk and a crepe which were added with fur and skin of which it was made the most part of accessories.
Collection details
Guillaume Henri paid much attention to forms, both fitted, and huge, also to a cut of sleeves and strips of shoulders. Without considering tests with a cut and a silhouette, Guillaume experimented with an animalistic print, without having forgotten about an abstract print.
Collection accessories
To add the refreshed images of Carven the designer offers shoe boots on a heel of white, dark and beige flowers. Without considering shoe boots, in a collection there are shoes on a heel and a hairpin, also open sandals, and, unlike shoe boots, a shoe and the barefoot person the designer suggests to make much more courageous concerning color: in red, blue and even the emerald. The footwear is executed from skin or the atlas. And to end an image will help correctly picked up handbags with which the collection dazzles. All of them different forms, styles and coloring that gives to the client a huge freedom of choice.
This collection can cause the mixed feelings, can cause a certain misunderstanding, but it precisely cannot be classified as boring and ordinary, and it already is a lot of!